Corporate Entertainment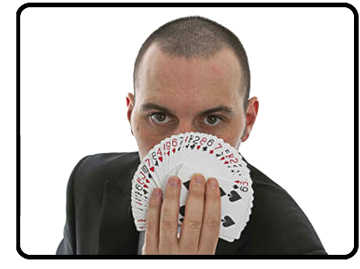 Discover how to make your next event the best ever!
Jason specializes in close up magic, which is magic that happens right under your nose. Incredible award winning sleight of hand with playing cards, money and generally anything he lays his hands on to keep his audiences superbly entertained.
In 2010, Jason performed close-up magic at the Prestigious Magic Circle Gala Awards Ceremony to honour a personal request by the president.
In addition, Jason was also a nominee for the Magic Circle's Cecil Lyle Award in 2010, awarded for best magical invention of the year. Ask to see this close-up miracle when he performs at your event!
Don't forget that at least 80% of his bookings are through recommendation!
This type of magic is an ideal interactive entertainment that is suited for all events including cocktail receptions, buffets, and banquets. It can be performed anywhere with guests standing or seated, and is a fantastic talking point that stimulated laughter and conversation.
Packages Available
Strolling Magic - Jason is able to move freely amongst your guests to add amazement and amusement to a drinks reception. His astonishing sleight of hand and entertaining style of delivery will be remembered by your guests for a long time to come.
Table Magic - Jason will perform professional close-up magic during the course of your guest's meal. Having a close-up magician performing right in front of them will leave your guests gasping with astonishment, creating a memorable experience for all of your guests.
All-inclusive - A specifically designed mix of the table and strolling package suited to your unique requirements.
"Jason, we were very impressed with your performance which you carried off in true showbiz style. Thanks for being so professional and entertaining throughout. Brilliant!!" Ian Jolly, Producer. BBC
"Jason Fenn provided our wedding day with that extra special something we were hoping for. He was punctual, well dressed and friendly with an excellent personality that endeared him to all of our guests. We would highly recommend Jason Fenn Magic for any event you are planning, as his personality and ability to entertain will not disappoint." Terry and Louisa Perry